Part quaint countryside, part music mecca, Nashville offers contrasting personalities
There are two distinct regions of Nashville, Tennessee. One end is the quaint, rustic countryside, surrounded by hillside roads, farmland, and Ma and Pa shops – not to mention some of the best scenery nature has to offer. The other, essentially contained on Broadway, between 2nd and 5th Avenue, lies the downtown strip known as Music Row, the quintessential heart of the city, filled to the brim with live entertainment, bustling bars and mouth-watering Tennessee eateries.
Thanks to GM and a Chevy Cruise, I was able to see the best of both worlds.
I begin the journey from Nashville International Airport to the Hutton Hotel. Upon arrival, the Southern hospitality radiating from the bellhops and front desk became immediately apparent. The hotel itself is regarded as one of the most luxurious in the downtown core, with granite-style bathrooms, farm-to-table cuisine, and even a pet concierge for your four-legged friend. It's also just a little over half a mile from the downtown core!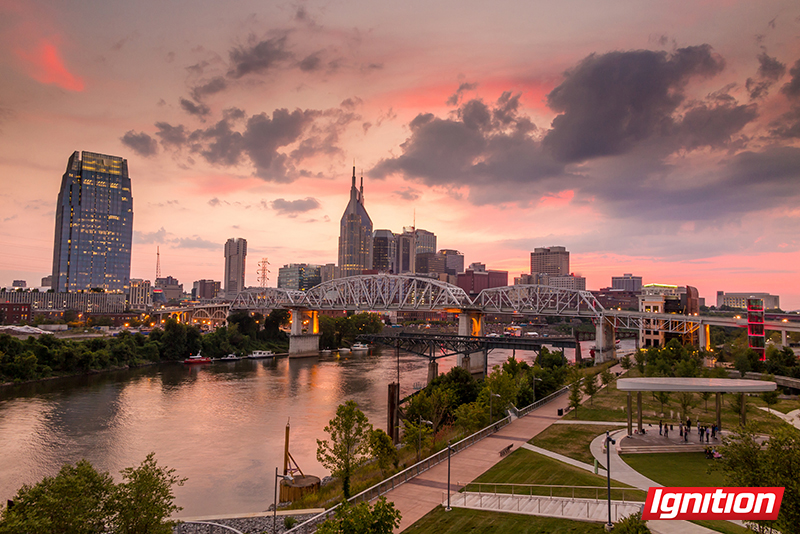 Before we explore the nightlife, let's take a drive through the country. During this leg of the trip, GM was nice enough to partner me with a rep by the name of Brent Deep, who's responsible for vehicle performance of small cars to mid-size trucks. Of the four trim levels available, I selected the Premier package, considered the highest with an MSRP of $23,895 (CAD). Our first stop was at Country View Market, which carries with it the aroma of local agriculture from the moment you step through the doors. There I tasted a sample (or four) of homemade Chocolate Chip Cheeseball, met an older couple enjoying soft serve ice cream in the shade on rocking chairs, jumped in the Cruze and made my way to Country Boy Family Restaurant.
At this point, I've gained a feel for the car and decided it was time to put the pedal to the floor. With a weight reduction of up to 250 lbs., the Cruze comes standard with a 1.4L Ecotec turbocharged engine, producing 153 hp/177 lb-ft, hitting 0-60 mph in 7.7 seconds. Fuel consumption is rated at 5.9L/100 km hwy (Premier), 7.8L/100 km city, and 6.9L/100 km combined (Premier). It was the use of technology, however, which really impressed me, especially the safety features.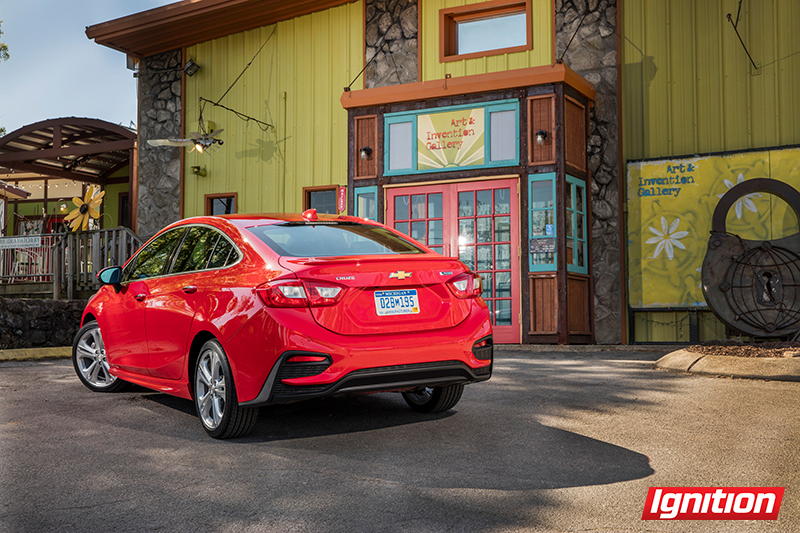 Driving down I-24, Deep instructed me to activate the lane change alert system by veering off my lane and into the soft shoulder. Against all instinct, I followed his instructions, and the moment the wheels touched the shoulder, the car automatically returned back to the appropriate lane. This is because the feature recognized there was no signal indicator. However, when making a lane change without signalling, the driver can override the program with a firm turn. Any continuous action in this manner will alert the driver by setting off an audio and visual signal. The Cruze also comes standard with blind zone alerts on the side mirrors.
Travelling towards Country Boy Family Restaurant, Deep and I decide to take the more scenic route through Natchez Trace Parkway. It's a National park with a road leading you back into Leiper's Fork Historic District, just a few block from a country roadside, with brick and mortar shops lining the streets. It was there, at the restaurant, I made another discovery: I have serious addiction to authentic Southern fried chicken. Our final stop of the country tour was a visit with Otis James. Mr. James is an artist, specializing in men's accessories, including hats, bowties and pins. Each item is handcrafted, with an extraordinary commitment to detail. We also met his dog Maple. Laid back and friendly, he obviously takes after his owner.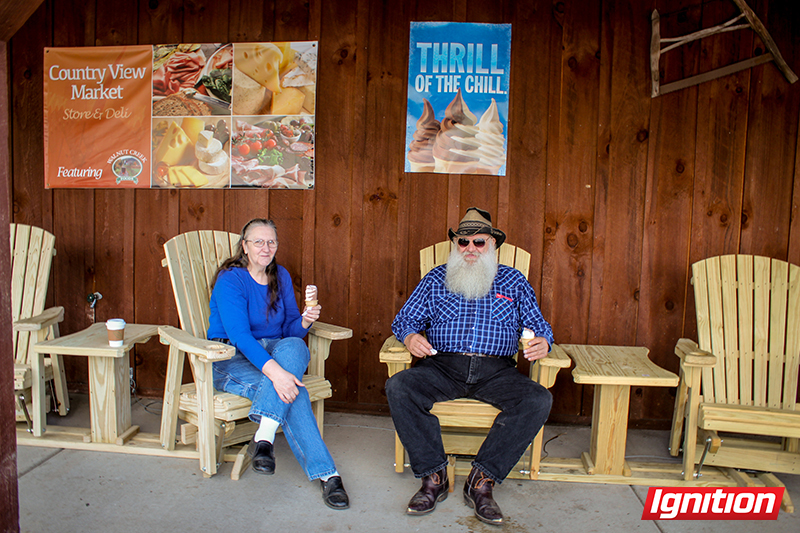 Heading back to the hotel was a breeze thanks to the car's redefined navigation system, which includes 3-D map views, creating a simple yet interactive experience. Listening to Mumford & Sons on the Bose 9-way speakers (LT, Premier) was the bittersweet way I decided to conclude this portion of my tour.
Thanks to a mishap with my flight (something I recognize now as a blessing in disguise), I was afforded an extra night with a fellow writer, Jonathan Cavaliere, who happened to be taking the same flight home. After resettling in our respective suites, we asked the front desk what we should do with our extra night. He recommended taking a stroll down to the aforementioned Music Row. Amongst the crowded street, faces young and old, we saw a neon light reading, "Jimmy Buffett's Margaritaville." While Cavaliere ordered the surf and turf, admittedly the more popular choice, I needed my last fill of Southern chicken, which I had in the form of a lime Caesar salad. The two of us also quenched our thirst with the cowboys' choice, a Lone Star Beer. Both satisfied, we made our way through the crowd and continued exploring. On recommendation, and after walking the entire strip, we ended the night at what is known to be the hottest 3-story spot in the core, Honky Tonk Central.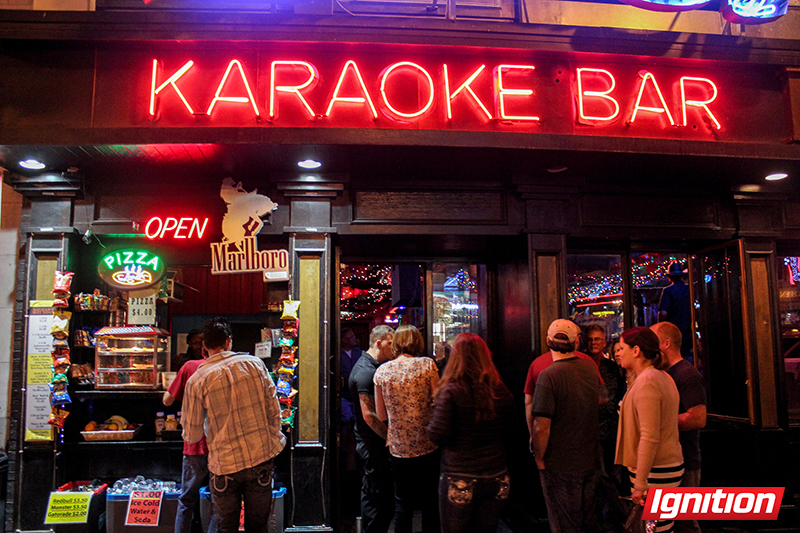 My two-day trip was short but sweet, and while I made memories to last a lifetime, there's a bit more of the city, not to mention Tennessee as a whole, I'd like to visit my next time around. Most tempting is a road trip through the Americana Music Triangle. Routed within Gold Record Road, you'll be connected to New Orleans, Memphis and Nashville, as well as all of the small towns, markets and dance halls in between. If you're planning to take a trip without any children, I'd recommend renting a Sprocket Rocket Party Bike, essentially a bike controlled by a maximum of twelve peddlers, one operator and keg of beer resting in the middle. Other sights to be seen include the Grand Ole Opry, Country Music Hall of Fame, The Bluebird Cafe and a Predators game at the Bridgestone Arena, if the season is right.
A trip to Nashville, paired with a 2016 Chevy Cruze, has proven to be the complete recipe for an all-American experience.