Southern Hospitality in abundance in Kentucky and Tennessee
If a Southerner is doing something – anything -- you'd better believe they're doing it whole hog. And whether they're serving up a sinful platter of Southern cooking, sharing their unbelievable musical talents, or raising a toast with some bourbon, Southerners make sure they dish out a big ol' helping of Southern hospitality with it, even to northerners like me.
These are tumultuous times in the United States, with political tensions seemingly higher than they've been in quite a while. Still, the day-to-day lives of the Southerners continue, regardless of their political predilections, and there's a heck of a lot to celebrate here.
My traveling companion and I have journeyed from Southern Ontario simply for the love of a road trip. Nashville – one of the focuses of our journey – is just near enough to be driveable within a day or two, but far enough from Toronto to feel like a proper adventure.
Just as important as the choice of music (lots of country, for this trip), and travel companion (my lovely girlfriend, Allie), is the selection of the proper machine for the journey. Modern fuel costs be damned; we've chosen some proper 'Murica-style muscle for the journey: a 2017 Dodge Challenger R/T equipped with an honest-to-goodness manual transmission. Being that it's Canadian-built is just a fun bit of trivia for those in the know.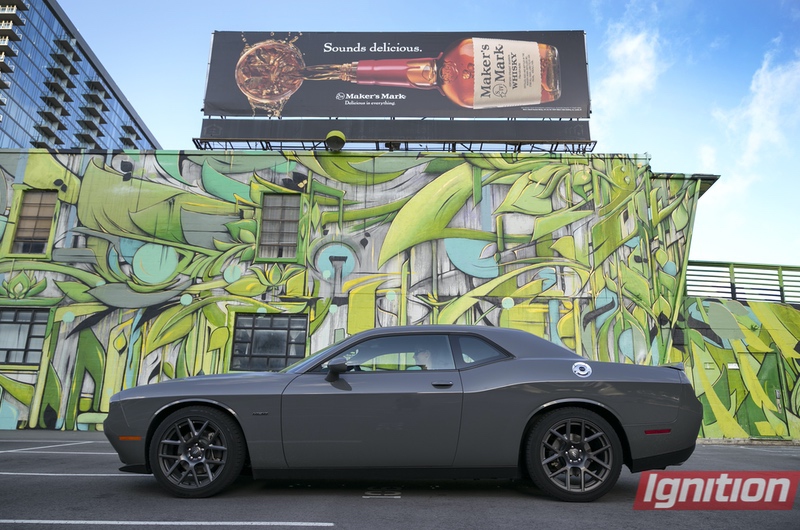 With limited time for our adventure, we elected to take I-75 from Detroit, through Ohio and into northern Kentucky. It's far from an exciting route, but the quickest way to get us to the South, ending a first long day of driving in Louisville, Kentucky's largest city.
Historically settled as a portage point around the Falls of Ohio (along the Ohio River), the city is well known as the home of the Kentucky Derby, Kentucky Fried Chicken and, of course, the Louisville Slugger. It's also a key bourbon-producing city as we came to learn.
Louisville has undergone considerable gentrification in recent years, resulting in a downtown area that's vibrant and full of life featuring great barbecue joints, cool cafes and bistros and some very cool nightclubs, all within a short walk of Louisville Slugger Field and Angel's Envy Distillery.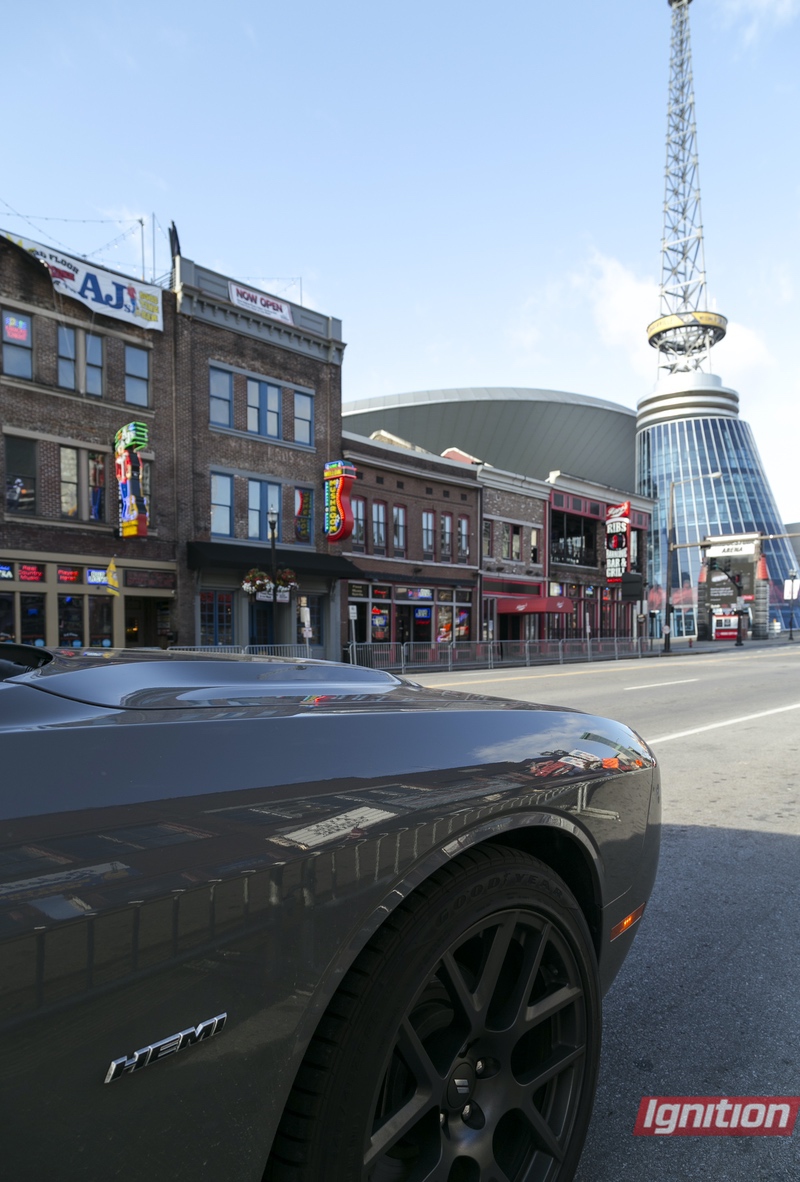 Facing a tropical storm raging northward from the Gulf of Mexico, we pointed the Challenger's long hood southbound as early as we could and hoped we wouldn't need pontoons. The drive between Louisville and Nashville isn't a long one, but a deluge like that can certainly slow the pace.
Upon arriving at Music City, USA (a title Nashville has boldly, and aptly claimed for itself), the clouds parted and the city steamed amidst the blazing afternoon sun and humidity. Not that it slowed the pace of revellers from packing Broadway's nearly endless selection of western bars and honkytonks. It's overly touristy, but the atmosphere is buoyant and festive with a surprisingly diverse group of partiers ranging from city-slickers, to senior citizens, to farm hands all rubbing shoulders on the dance floors or at the bars serving wildly over-priced beer.
Broadway has become a caricature of what Nashville must've been fifty years ago (some of the bars, like Tootsies, have weathered all those decades), preying on the increasing influx of tourist dollars from folks wanting to get a little bit country.
Still, it's loads of fun, if for a short while, and there are some spots where the best music the city has to offer can still be enjoyed, like the Ryman Theatre. The Ryman is celebrating its 125th anniversary this year, and is considered the birthplace of Bluegrass music.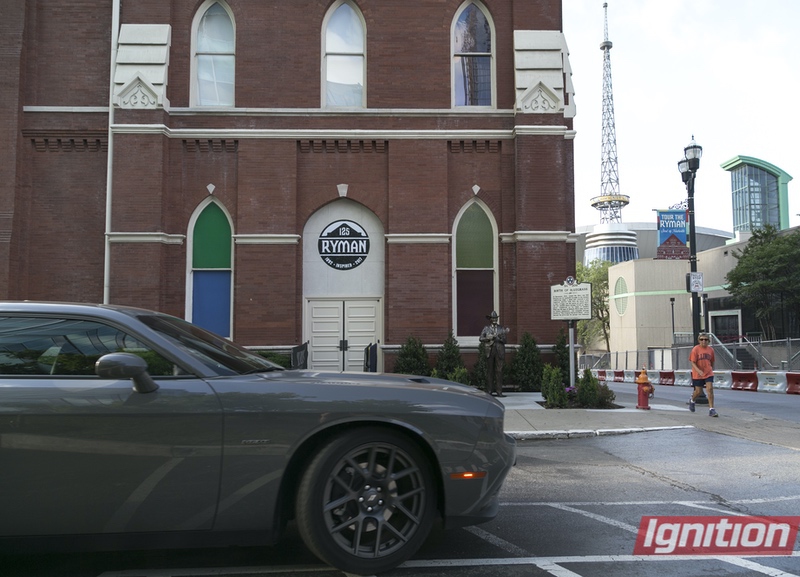 Nearby, The Gulch neighbourhood is home to more upscale and trendy digs where young professionals support cool bars and bistros. To assume Nashville is nothing but schlocky country and western tourism is to sell this modern, vibrant city far short.
***
The Challenger we were provided is finished in a colour called Destroyer Grey. From a photographer's perspective, it's flat and dull and blends in to the colour of pavement far too much. But we've come realize it's a brilliant choice for this journey, meaning the fast V8-powered coupe goes largely unnoticed by the State Troopers should our speeds edge a little above the posted 70 mph limits.
It's easily done, too, since the 5.7L HEMI turns so few revs in sixth gear, that even at highway speeds it quickly endeared itself as a formidable highway cruiser. Adding in the Challenger's comfortable heated (and cooled) seats, plus a fantastic harman/kardon sound system integrated with Dodge's fantastic Uconnect infotainment system, and racking up hours on the road proves to be far less of an effort than we anticipated.
More importantly, the anonymous shade of paint on the Challenger makes it seem an even more appropriate choice for the next leg of our trip, venturing along Kentucky's Bourboun Trail toward Lexington.
NASCAR fans are well-versed in the sport's origins with the region's bootleggers who chose cars as unremarkable as possible, and turned them into sensationally fast and capable hauling machines. Early on, run-of-the-mill Fords were popular with whiskey runners who would stiffen springs to handle heavy loads of moonshine and swap out the flathead mills for the largest Cadillac ambulance engines they could get their hands on.
Even after prohibition officially ended in 1933, illegal production of moonshine in the Appalachian foothills throughout Kentucky and neighbouring states continued for would-be farmers looking for a more profitable (if dangerous) way of life. And while six of Kentucky's distilleries were granted permits during prohibition to continue producing whiskey for "medical" reasons, much of the state's increasingly popular spirit producers like Jim Beam, Woodford Reserve, Maker's Mark and Buffalo Trace have risen to become household names over the past 50-60 years.
Today, Kentucky's bourbon producers are flourishing, a fact evident in visits to a few of the distilleries that now have comprehensive tours, beautifully restored buildings and extensive gift shops, with people lining up for all of them. More telling is the 40% increase in Bourbon sales around the world in the past five years, and the more than 5 million barrels of whiskey currently resting in Bourbon County alone. 2.5 Million visitors have toured the Bourbon Trail in the past five years and more than 9,000 jobs are directly attributed to the production of that fine old spirit in Kentucky. To suggest Bourbon is important here would be an understatement.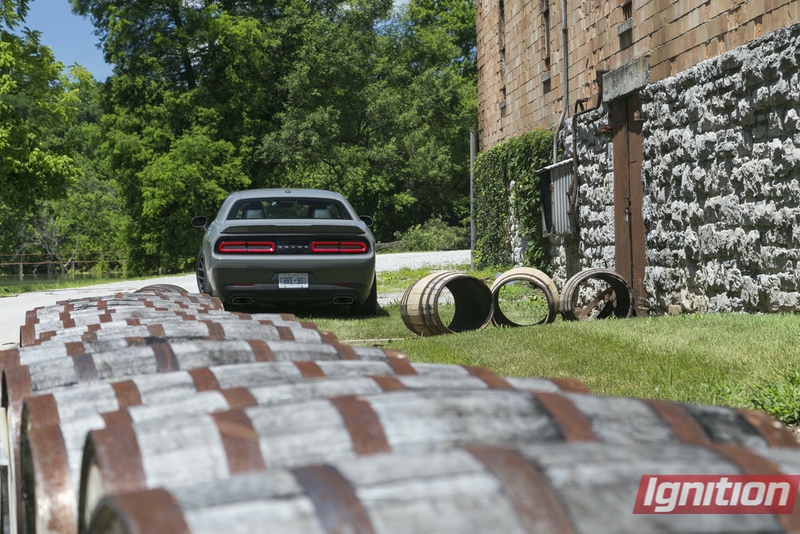 But it's the mystique surrounding the aged distilleries, still nearly hidden amongst lush forests up in the hills outside places like Frankfort and Loretto that have our imaginations running a bit wild. The secondary roads leading up to and out of the distilleries twist and turn, rise and fall with the landscape, and can be truly exciting to drive.
We relished listening to the Challenger's V8 rev up near redline time and again as we occasionally fantasized ourselves as whiskey runners. The crisp action of the Dodge's Tremec six-speed transmission and pleasingly light clutch meant we never got tired of exercising the big coupe, and when, on occasion we came upon a corner a little quicker than we should've, the optional High Performance Brake option fitted to our car (a bargain at only $295), was greatly appreciated.
***
Our arrival in Lexington was doused by the second wave of Tropical Storm Cindy and the dash from the valet to front door of the hotel found us both already soaked. Fortunately, we had booked ourselves into the splendid 21C boutique hotel in Lexington's downtown core, an old bank tower that's been converted into a luxurious hotel replete with its own art gallery open to the public. While wishing to get out and sightsee the city, the downpour forced us to enjoy an outstanding meal at the hotel's Lockbox restaurant.
After a restful sleep, Lexington was alive and vibrant under sunny skies, encouraging a brief exploration of the lively farmer's market and downtown core before hitting the road again en route home, leaving the lush ranches of "The Horse Capital of the World". Despite its agricultural surroundings, the city itself is diverse and contemporary, thanks in no small part to the massive University of Kentucky student body, which accounts for a sizeable portion of the city's half-million residents.
***
Driving northbound along a more easterly route, the rolling terrain provides sensational views, even from the highway, but the secondary roads, in great condition and lightly travelled, proved to be the driver's delight all the way to Pittsburgh, our final night's stop and yet another fantastically revived city.
Tennessee and Kentucky make for a road trip paradise, offering an incredible wealth of choice for entertainment, sports, cuisine, history and scenery. That friendly Southern Hospitality will have visitors planning return trips before they've even gotten home, because believe me, that passion is contagious.