For those of us living in Central Canada, the Stratford Shakespeare Festival is a classic road trip destination. Since this festival was founded in the small city of Stratford in 1953, it has long been considered a cornerstone of Canadian culture.
Each summer it presents a rich offering of Shakespearean plays and other productions in a number of theatre venues. This year the festival runs late April until October 18th with highlights including the tragedy Othello and lighter fare in the comedy The Merry Wives of Windsor. In addition they are featuring two popular Broadway musicals – Little Shop of Horrors and Billy Elliott the Musical – along with several other shows. The complete schedule can be found at www.stratfordfestival.ca/
For those living in the Greater Toronto Area it is easy to take in a single performance on a quick day trip, but many people make it a one- to three-night stay and take in two or three different performances and have time to enjoy the delights of this charming little city set in the heart of rural Western Ontario. Of course, the Festival is more than just a local attraction and many people fly in from other parts around the globe and rent a car to drive up to Stratford.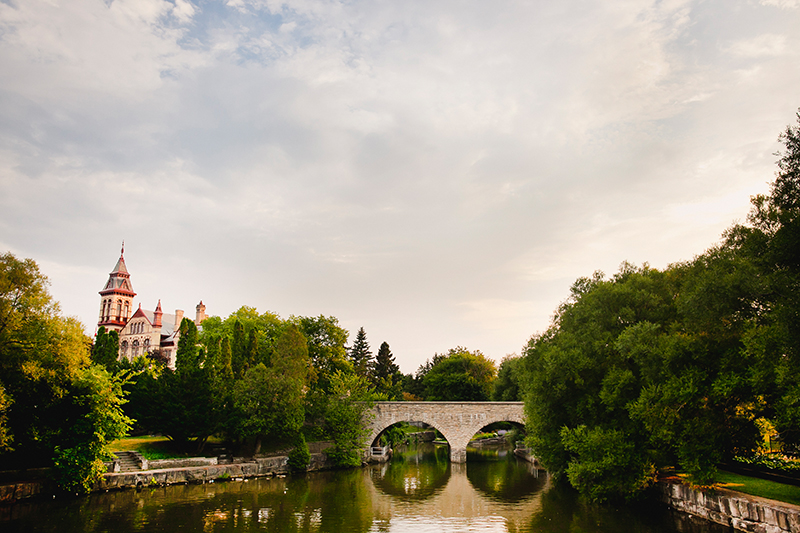 What to see and do?
Stratford became a city in the late 19th century and prospered as a centre for the railway industry – the site of two different railway repair shops – and other industry such as furniture making. It hit its stride about 1900 and the architecture of the city still reflects the prosperity of this era.
One way to see many of the sights is to take the River Walk Heritage Tour. Have a look at the attractions here – www.visitstratford.ca/riverwalk-heritage

Some of the tour highlights include the impressive Perth County Court House, which was built in 1885-87 and has a commanding position at the end of the main street. In 1936, the Shakespearean Gardens was opened nearby – its five different gardens are based on plants mentioned in Shakespeare's plays. A bust of Shakespeare was added in 1939. Nearby, the Huron Street Bridge (main street/Highway 8), a stone bridge built in 1885, is the only double-arched aqueduct road bridge still in use for automotive traffic.
Three other impressive buildings closer to the city centre are the City Hall (built in 1900), the massive Stratford Armoury (built about the same time) and the former Stratford Normal School (teachers' college), which is next to the present-day Festival Theatre. City Hall and the Armoury are designated heritage buildings. Of course, the Festival Theatre, built in 1957, is a now a showpiece of Stratford's architecture.
Highway 8 goes straight through the middle of the city, and the streetscape between the Festival and courthouse reflects the early 20th century storefronts and is a lively area of shopping and restaurants.
Perhaps overshadowed today by the Festival complex, I have fond memories of time spent in my youth walking along the banks of the nearby Avon River, looking at the swans and picnicking on the grass. I never took a ride in the rowboats on the little dammed-up lake, but all of those gentle pleasures are still there down at the riverside below the Festival Theatre.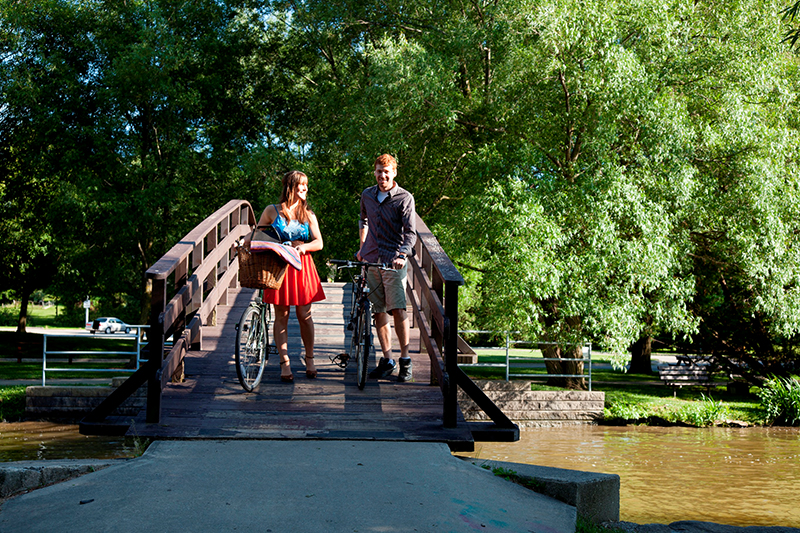 Getting there?
For people living in the Toronto area or flying into Lester B. Pearson International airport (YYZ), it takes about an hour-and-a-half to get there. It's a fairly quick blast along Highway 401 west to the Kitchener exit to then follow Highway 8 until you reach Stratford; but, in the spirit of true "road trip,"you should take in some of the sights on the way there.
Perhaps you might like to take a small detour up to the village of St. Jacobs, which is a bit to the northwest of Kitchener/Waterloo. The village caters to city visitors with a number of speciality food shops, eateries, boutiques and antique dealers. This is Mennonite country and there is a special attraction called The Mennonite Story. Perhaps St. Jacobs is even better-known for its big Farmers' Market to the south of the village, which features fresh produce and other foodstuffs, merchandise and antiques.
Once you are in St. Jacobs, cut across country past Wellesley. You should be able to spot the Mennonite farms with no electricity supply, a marker of the traditional Mennonite way of life. You may also see the old-style horse-drawn buggies along the side of the road with their occupants in traditional dress. Wellesley also hosts an annual Apple Butter and Cheese Festival, this year on September 26th.
Whether you come via St. Jacobs or Kitchener, take the Highway 8 bypass to go through Baden and New Hamburg along the original route of the old highway. Baden used to be famous for its German-style Limburger cheese. Today the Oak Grove Cheese Factory in New Hamburg continues the tradition and still includes the smelly Limburger among its wide range of cheese styles. The Castle Kilbride, a large Italianate home in Baden built in 1877, has been restored and is worth a visit.
It might be easy to glide through the landscape of large farms without much thought, but this too is worth your attention. This part of Western Ontario is one of the richest agricultural regions in Canada. Not many years ago, the landscape was dominated by smaller family farms, split up into 10- and 20-acre fields fenced off to allow crop rotation, including pasture for livestock. As farming has become industrialized, the fences have been ripped up and the fence-bottoms cleared of trees and rocks, making each of the farms one huge unfenced field. What livestock remain are in feedlots or in barns. Take a look at the fields and try to identify the crops being grown – corn, wheat, barley, beans? You might have to stop your car to get out and take a closer look at some of the crops to identify them. Similarly, you might try to figure out what kind of livestock is being raised on the farms – cattle, swine, chickens?
Of course, keep your eyes out for the early 20th-century architecture of the streetscapes of the smaller towns you pass through. The village of Shakespeare is just a few kilometres east of Stratford, and it has a number of intriguing antique shops and restaurants and well as some great accommodations.
https://www.instagram.com/p/Bs1Lv0IHAPJ/
Where to eat?
There is no shortage of choices in this small city.
As you approach Stratford from the east, there is a stretch of stores and restaurants that includes many of the familiar fast food and chain restaurants. Once into the centre of the city, however, most of the places are unique establishments of more intrinsic interest – in a range of styles and prices.
This is by no means a comprehensive review of the places to eat in Stratford, but here are a few places members of my family have enjoyed.
The Church Restaurant and Belfry is, as you might expect, in the chancel of a former church. It's a long-established and popular higher-end restaurant popular with the Festival actors.
The Pazzo Taverna and Pizzeria has the pizza downstairs and the other Italian food upstairs (this is a particularly popular choice, so be sure to arrive well before your show time and be prepared to wait).
The Monteforte on Wellington is part of a group of restaurants based on a dairy and cheese factory near Stratford. It features a simple but wholesome menu and has a backyard patio.
The County Food Company has a tasty selection from the counter, sandwiches, salad bar (including vegetarian entrees) with limited seating. They also do take-away.
As for breakfast, we recently enjoyed Jesse's Deli – near the Arden Park Hotel toward the east end. They have a wide selection of breakfast offerings, but their daily egg special is hard to turn down. Of course, they have a midday menu as well.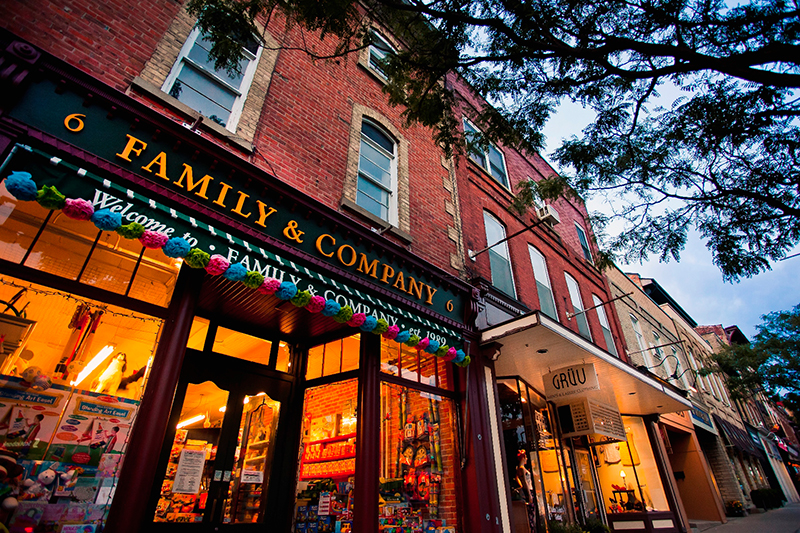 Where to shop?
Perhaps visitors to Stratford are not coming for the shopping, but the main street has the kind of nice selection of speciality shops you would expect in a theatre-centred town like this. Souvenirs, clothing, books, etc. On my last visit I was taken aback by McLeods Scottish Shop, which had an excellent selection of traditional and more everyday-style clothing. I bought a cap, but I almost bought more in this pleasant shop.
On another tack, I am always drawn to the farmer-oriented TSC Stores, which have a range of products a bit different from those found at the more urban Home Depot-style stores, but still of interest to those of us who have yard work to do. There is a TSC Store in Stratford at the extreme eastern end of the commercial strip at the eastern edge of town.
If you're looking for a small treat, be sure to stop by Rheo Thompson Chocolates. This chocolate store stands apart, with its inventive flavour combinations and consistently delicious products. We sure to include a cooler in your trunk if you are planning to shop and than see a show.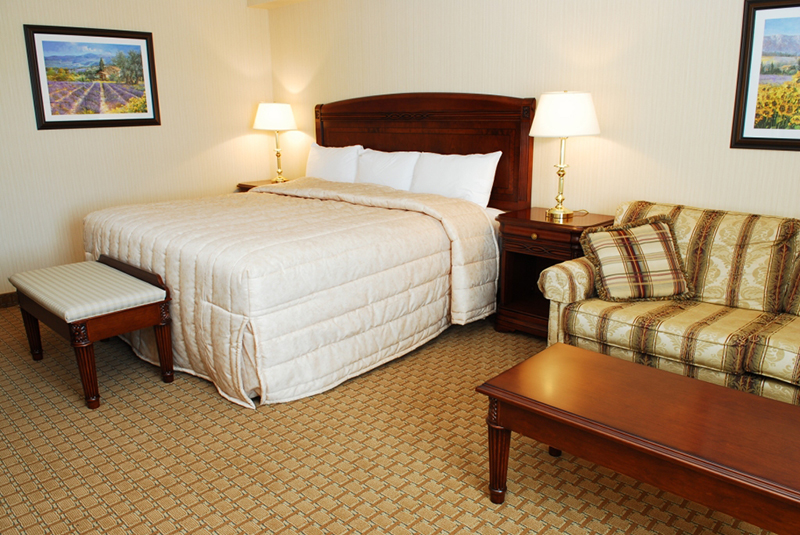 Where to stay?
The Stratford Festival website lists several good choices for accommodation in the city. We have stayed at the Arden Park Hotel, a 3.5 star hotel on Main Street toward the east end of the old part of the city. It is a luxury hotel with all the expected amenities.
Farther afield, you might want to try the Shakespeare Inn in nearby Shakespeare.
Another popular alternative is to stay in bed and breakfast accommodation. My daughter has enjoyed Bentley's, which offers a number of B&B style lofts in conjunction with its bar/restaurant in downtown Stratford.